First six Mercy Fund grants score big at baseball fundraiser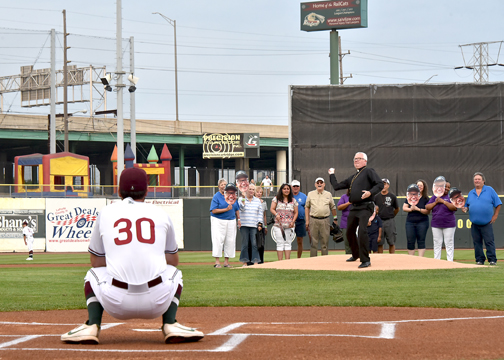 GARY – The Gary SouthShore RailCats beat the Winnipeg Goldeyes 5-2 at the Bishop's Birthday Bash on Aug. 14, but the Catholic Foundation of Northwest Indiana scored an even bigger win, awarding its first six $1,000 Mercy Fund grants.
"Thank you to everyone for another successful Birthday Bash for the Mercy Fund. We raised more than $12,000 and couldn't have done it without your prayers and support," said Liz Metts, the foundation's executive director. "We recognized our very first Mercy Fund grant recipients at the Bash."
Bishop Donald J. Hying hosted about 630 of his closest friends at the U.S. Steel Yard for the second annual fundraiser benefitting the Mercy Fund he created in 2016 in recognition of Pope Francis' Jubilee Year of Mercy. The inaugural grant cycle prioritized 36 applicants that embody spiritual and corporal works of mercy within the Diocese of Gary.
In a video message posted on the RailCats scoreboard, the bishop thanked all Mercy Fund donors and those in attendance, who not only enjoyed the baseball game, but shared a buffet dinner, beverages and goody bags.
The six grant recipients were also featured in videos posted throughout the game.
In establishing the Mercy Fund, Bishop Hying explained that "earnings from the Mercy Fund will be distributed to organizations and institutions right here in our own diocese that heroically and generously live out the Corporal and Spiritual Works of Mercy."
Through investments, income is earned and five percent of the total endowment will be distributed each year by way of competitive grants. The bishop originally set a goal of $500,000 for the Mercy Fund, and Metts said that in less than two years, $130,000 has already been raised.
The 2018 grants support five start-up projects and one reformulated and expanded program.
Former pastor Father Kevin McCarthy hosted monthly community meals at St. Joseph the Worker in Gary, said Deacon Paul Krilich, inspiring the St. Mary of the Angels Fraternity of the Secular Franciscan Order from St. John the Evangelist parish in St. John to convert the meal program into a weekly lunch last April.
The soup kitchen used part of its grant, Deacon Krilich said, "to buy a propane grill that makes it easier to grill outdoors" and serve lunch to the 25-40 guests. "We set up tables outdoors when the weather is conducive and make it a picnic," he said. "It's more festive and also more visible, to draw more neighbors."
Deacon Krilich said the Franciscans prepare 80 meals each Saturday, serving from 11:30 a.m. to 1 p.m., offering carryouts for those who can't attend and delivering 20 meals to the Missionaries of Charity at nearby St. Mark Convent for the women and children sheltered each night. "In the 19 weeks since we started, we have served 1,100 meals.
"This gives us a great opportunity to serve the poor and to work in fraternity," he added. "We are running the program with the help of our many years of experience at Port Ministries in Chicago, where we originated, and tailoring it to the unique needs of Gary citizens."
In Griffith, St. Mary pastor Father Theodore Mens said the parish "is very happy" to receive a grant to establish a new Faith Community Nurse program that just began with parishioner/nurses offering blood pressure and blood sugar testing after weekend Masses.
"We have wonderful nurses spearheading the program, and we hope people will take advantage (of the education and screenings) to stay healthy. This is all preventative care."
Catholic Charities will reach out to underserved Starke County residents with a Pop-Up Food Pantry starting in early 2019. "We are very grateful for the grant," said LaShawn Jones-Taylor, director of client services, "and will work with parishes and social services agencies to identify the (three) best locations to set up a van or farmer's market." Each person will receive lunch and a bag filled with food and toiletries.
Grants were also awarded to the St. Vincent de Paul Society at St. Joseph, LaPorte, to offer educational classes to impoverished food pantry clients and neighbors; Notre Dame School, Michigan City, to start a Rainbows grief counseling program for children suffering the loss of a parent through death or divorce; and St. Agnes Day Center in Valparaiso, to create Serenity Garden, a safe outdoor space.
This article was written by Marlene Zloza, of Northwest Indiana Catholic.  Please visit them at NWI Catholic Online.