Strategy
The Foundation invests its assets to financially support current activities related to the mission, as well as provide resources for future efforts and growth.
The investment objective of the Foundation is to preserve and enhance the real (inflation-adjusted) purchasing power of the Foundation assets, consistent with agreed-upon levels of risk that a prudent person would take under various economic conditions.
The objectives for all the investment assets shall be accomplished utilizing equities, fixed income, fixed income like investments, and cash equivalents in a mix which is conducive to participation in rising markets while allowing for protection in falling markets.
Therefore, the general long term investment objective is the following:
The Foundation Rate of Return ≥ Spending Rate + Inflation Rate + Expenses
---
Performance Objectives
The total return over a long-term basis (as measured on a ten year rolling period) is expected to exceed the rate of inflation, as measured by the Consumer Price Index, plus the spending rate plus investment expenses.
The total return net of fees is expected to exceed the return of the target blended benchmark: 30% Barclays Capital Intermediate Gov/Credit Index / 35% S&P 500 / 15% Russell 2500 / 13% MSCI All Country World Ex-US Index /5% S&P US REIT / 2% Bank of America Merrill Lynch 90 Day Treasury Bill Index. (Distribution & Contribution sub accounts are excluded from performance reporting.)
---
Asset Allocation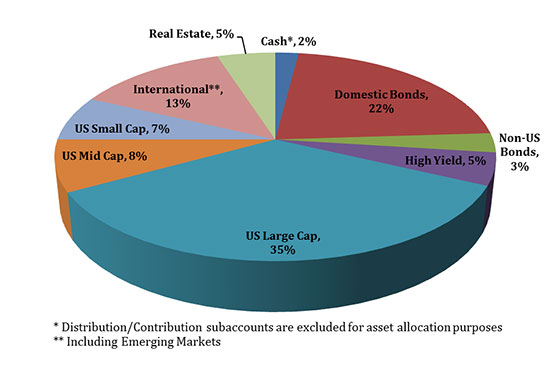 Asset Allocation for Endowment and Charitable Gift Annuity (CGA) Investments (PDF)
---
Portfolio Management
Investment Committee
Monitors performance, asset allocation, manager allocations, and manager style adherence.
Investment Firm (CAPTRUST Financial Advisors)
Makes market decisions in adherence with Foundation Investment Policy, produces regular performance reposts for the Foundation, and immediately communicates any problems or concerns to the Committee.
---
Some of the links on this page may require Adobe Reader to view them. The Adobe Reader is available for download free of charge, by clicking here.