Catholic Foundation hosts 2023 Red Mass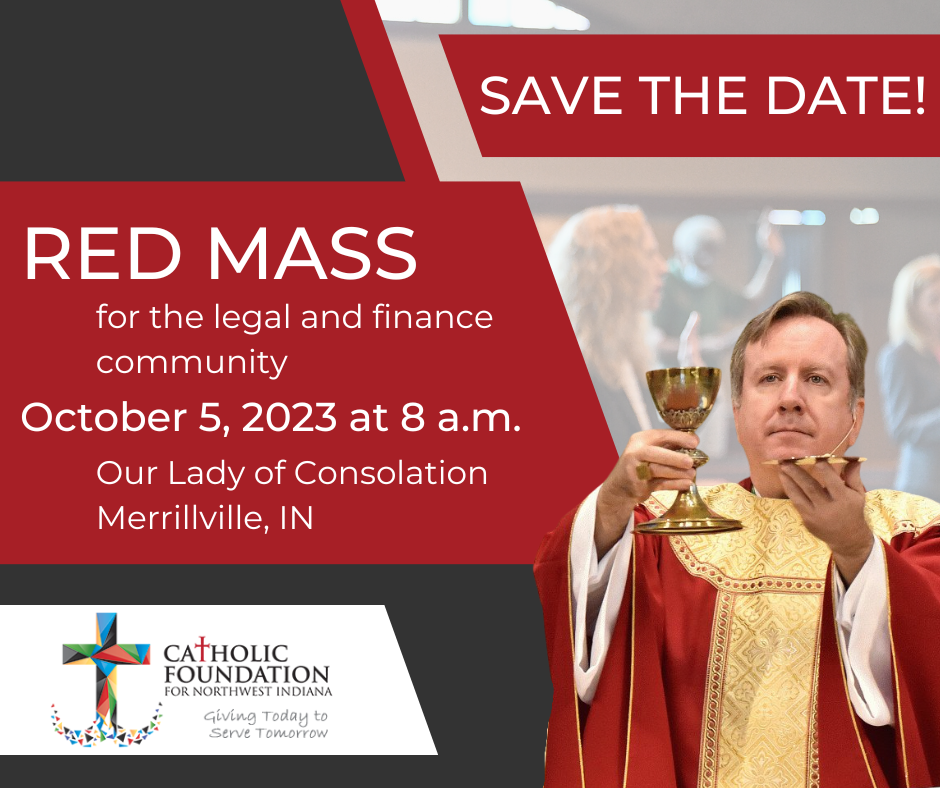 The Catholic Foundation for Northwest Indiana is once again hosting the annual Red Mass. This year the Red Mass will take place on October 5, 2023 at Our Lady of Consolation Parish in Merrillville. Mass will begin at 8:00 am, followed by refreshments and a continuing education seminar for lawyers and accountants. The Most Reverend Robert J. McClory will be the primary celebrant. For our continuing education seminar, our speakers this year are Lake County Probate Commissioner Jewell Harris, Jr. and Thomas Devine, Vice President and Wealth Management Team Leader at Peoples Bank. Together they will address the topic of "Fiduciary Responsibility-A Legal And Practical Perspective Of What Is Required".
Mercy Grant winners continue the Good Work
To make a donation to the Mercy Fund go to https://www.catholicfuture.org/donate/. Your gift to the Catholic Foundation provides both immediate and long-term impact in the community. To apply for the 2023 Mercy Grant cycle go to catholicfuture.org/grant-seekers/. 

MERCY FUND ALUMNI – A Giving Way of Life
The Society of St. Vincent de Paul (SVDP), including 22 local conferences within the Diocese of Gary Council, is working to meet social and spiritual needs and build relationships among those in need. The work of the Society models the works of mercy that are supported by the Mercy Fund of the Catholic Foundation for Northwest Indiana. SVDP has received grant money from the Foundation through the Mercy Fund to assist with their ministries. The Foundation is a non-profit 501(c ) 3 agency that manages over 40 endowments for schools, parishes, and various ministries across the diocese. The Mercy Fund was created in 2016 to provide immediate assistance to ministries that see a social need and work to meet the needs of those who are not being served.
The St. Joseph SVDP Conference in LaPorte received one of the initial Mercy Fund grants in 2018 to teach men and women to improve self-sufficiency and restore their self-worth and self-esteem. Classes included legal assistance tips, budget and financial planning, and vocational and technology training.
In 2020, a Mercy grant was awarded to the District Council of Gary to provide emergency food for the hungry and support the food pantries at Our Lady of Perpetual Help (OLPH) in Hammond and St Ann in Gary. St. Ann serves 120-150 families a month. They are the only SVDP food pantry in Gary.
Diane McKern tells her SVDP story, "My SVDP/OLPH conference serves all of Hessville: middle class families, working class, blue collar. The effects of COVID are still there. People are living paycheck to paycheck. Utilities went up tremendously. There are no rent caps, so landlords started raising rents and food tripled in cost. The regular paycheck is not doing it anymore. Jobs were lost during that time and people weren't called back."
"What sets us apart is that St. Vincent DePaul serves the whole person. We provide more than a band aid. Our goal is to know that person as a person. We may not be able to fix the problem but we take the time to talk and listen to what's going on with them. That sets us aside from a lot of agencies. We are serving Christ through others so they can see Christ in us."
The need is greatest in the far northwest communities of Hammond, East Chicago, Gary and Whiting. Local conferences that are doing well twin with conferences to share resources, physically not just financially. "Twinning is an absolutely godsend. We have many generous parishes involved in twinning, including St. Thomas More, St. John Bosco, St Paul, and Sacred Heart (Wanatah)."
Every conference provides different services. Some do assist with rent and housing. Many conferences have food pantries. They provide new bed special assistance, financial assistance for utilities, housing, medication, and clothing.
"Under the leadership of Mike Martinelli, our entire council is growing together. We meet every 3 months. We send out requests for assistance between the councils. Because of Mike there is an increase in twinning. Attendance at the Council meetings has gone up. He encourages training and mentoring programs. He filled with the Holy Spirit. He moves us to be faithful servants and to look for Christ in those we serve," adds McKern.
McKern joined St. Vincent right after completing RCIA, "I was challenged by our parish priest to not just be a Catholic in name only. "There's more to the church. Pray where the Holy Spirit wants you to be." I prayed about it. God where do you want me to be? I read an article in the bulletin, 'Do you like helping people? Come to our meeting.' So, I went, and the Holy Spirit just plugged me in. The minute I walked in…I knew I was home."
Leaders and volunteers are always needed. For assistance or to donate contact SVDP at 219-845-7531. For more information on the Mercy grants call the Catholic Foundation for Northwest Indiana 219-769-9292. The 2023 grant cycle runs April 1st through August 1st.
MERCY FUND ALUMNI – HAMMOND CITY RESCUE MISSION
In 2016, the Year of Mercy, Bishop Donald J. Hying initiated the Mercy Fund within the Catholic Foundation for Northwest Indiana. Its main purpose is to provide grants to start-up ministries in the Diocese of Gary and to support works of mercy in all corners of the diocese.
As we prepare for the 2023 Mercy Grant cycle (April 1 – August 1), now is a good time to look back and see the good that those early grant winners are doing today.
We may find it hard to think about homelessness and food insecurity in our own backyard, but for Jamie Sandona, director of religious education and youth ministry at St. John the Baptist/ St Adalbert, this is one charity that comes close to her heart. While the two churches are part of the Whiting community, they technically lay within the Hammond city limits, in Robertsdale. In 2019, the youth group, Peers Helping Youth Reach Enlightenment (PHYRE) received a grant from the Mercy Fund that was allocated for food security at the Men's Rescue Mission in Hammond. PHYRE had initiated a relationship with the mission in 2016 as part of their Year Of Mercy ministry within the Northlake deanery.
At the time of the award the shelter was hit hard with COVID and the doors closed to new residents as well as any outside deliveries. Sandona found that the greatest need at the time was for plates and bowls that could be washed instead of tossed so the money awarded went to provide that need.
Sandona shares their story, "The men that live there are at the mercy of others for their daily nutrition. Food is only one part of the entire picture. These men had bed mattresses that were duct taped with infestation issues and personal hygiene needs that are solely provided by donors."
PHYRE Ministry held a fund raiser for the men to purchase new mattresses. "The community came together to donate pillows and bedding. This was about 4 years ago, so the need is ever evolving. The community is far reaching and always willing with help from private donors and local grocery stores. With about 30 men living there and about 45 persons daily for meals the needs are high."
Four years later, the need is even greater. Sandona is a driving force in supporting the homeless ministry. The men's shelter is in great need of repairs. "They're stuck there with no way to get rent or move out. They only eat if someone is providing meals and the men always feed the (homeless) children and women first." Sandona estimates there are at least 100 homeless living on the streets in the downtown Hammond area and the only shelters available for women are for those in abusive relationships or addiction recovery. The homeless, even those in shelters never know when they will receive their next meal.
Financial support for the ministry comes from word-of-mouth and there is no shortage of volunteers. For more information contact Jamie Sandona at St. John the Baptist, 219-659-0023. The Mercy Fund awards several thousand dollars each year to support home-grown ministries, which in the past have included the Wheelchair Ramp ministry, Centers of Hope, Walking with Moms, Blessing Bags, Fellowship of Catholic University Students, Sojourner Truth House, Prison Ministry, Food Pantries, Soup Kitchens and many others.
To make a donation to the Mercy Fund go to https://www.catholicfuture.org/donate/. Your gift to the Catholic Foundation provides both immediate and long-term impact in the community. To apply for the 2023 Mercy Grant cycle go to catholicfuture.org/grant-seekers/.
The Mercy Fund is one of over 40 endowment funds within the Catholic Foundation for Northwest Indiana. Endowment funds allow the Catholic Foundation to channel and reserve funds in perpetuity to support the needs of Church ministries. Donations to the CFNWI endowments are preserved and semi-annual distributions of 5% come from earnings, dividends, and market growth.
MERCY FUND ALUMNI – WHEELCHAIR MINISTRY
At one time or another, each of us have given a gift of time, talent or treasure to someone we know. Do you ever wonder what impact that gift had in that person's or family's life? Were they able to turn that gift around like the Good Steward in the Gospel of Matthew (25: 14-30) and increase the value one hundredfold?
In 2018, the Catholic Foundation for Northwest Indiana initiated the first of many grants through the Mercy Fund, which was established in 2016 by Bishop Donald J. Hying to celebrate the Extraordinary Jubilee Year of Mercy. Over the next several issues of the Northwest Indiana Catholic we will introduce you to several different ministries that have been assisted by the Mercy Fund and give you an opportunity to get to know the Catholic Foundation for Northwest Indiana.
As we prepare for the 2023 Mercy Grant cycle which begins April 1st, now is a good time to look back and see the good that those early grant winners are doing today.
From being an electrician and electronics technician, Jim Koeling never thought he would be the founder of a growing care ministry in northwest Indiana. Hearing about a ramp ministry in Porter and LaPorte county started by the Kiwanis, Jim felt called to start a ramp ministry in Lake County. Without hesitation, his pastor Father Marty Dobrzynski agreed to have their parish, St. Michael the Archangel, sponsor the Mercy Grant application.
Koeling was very moved when his application for a wheelchair ramp project was funded by the Mercy Fund, "This was the thing that validated this ministry. When we received the grant for $1,000 it was God showing me that this is my mission. This could never have happened if the Holy Spirit were not involved. I am humbled to be a part of it." Within 2-3 days everything started to fall into place. Koeling got his first ramp and before long he was receiving referrals from hospitals and social workers. He started applying for other grants. Jim continued to scour his sources to locate used and donated ramps. Recently they installed a ramp and chair lift at St. Ann's parish in Gary.
The Mercy Fund is one of over 40 endowment funds within the Catholic Foundation for Northwest Indiana. Money was collected by personal gifts and fund-raising events, and the needs continue to grow every year.
Endowment funds allow the Catholic Foundation to channel and reserve funds in perpetuity to support the needs of the Church's ministries. Donations to the CFNWI endowments are preserved and semi-annual distributions of 5% come from earnings, dividends, and market growth.
"Never in my wildest imagination could I imagine the success," said Koeling. The ministry recently installed its 50th ramp. As the ministry continued to grow, they partnered with Catholic Charities to administer the program. One of their biggest challenges right now is to find storage as they continue seeking used ramps. Koeling is a graduate of the Lay Ecclesial Ministry program, or LEM, one of the many endowed programs in the Catholic Foundation for Northwest Indiana. Earnings from the LEM fund makes scholarships available for potential LEM students.
To make a donation to the Mercy Fund go to https://www.catholicfuture.org/grant-seekers/ or call the Foundation at 219-769-9292, ext 268. Your gift to the Catholic Foundation provides both immediate and long-term impact in the community.
The Mercy Fund is one of over 40 endowment funds within the Catholic Foundation for Northwest Indiana. Endowment funds allow the Catholic Foundation to channel and reserve funds in perpetuity to support the needs of the Church ministries.
This year's Mercy Grant award cycle runs April 1 through August 1, 2023. Go to Mercy Fund for more details.
CHRISTMASTIME IS POPULAR FOR YEAR-END GIVING
Christmastime is popular for year-end gifting. As we sit down with our checkbooks, we gift our loved ones, service providers, customers, and of course, our favorite charities. The Catholic Foundation for Northwest Indiana (CFNWI) is host for over a dozen endowment funds that have been named for the donor or a loved one who has passed. Family members choose the Holidays to remember loved ones and offer generous financial gifts in their memory.
Catholic Charities Endowment Fund is one of the most popular to gift at Christmas because of the good works that they do. The Women's Care Center, a program of Catholic Charities, takes care of mothers at risk, walking with them through their pregnancy, helping them prepare for the arrival of their baby, teaching them how to be good parents, and offering guidance in career development. When we think of Baby Jesus born 2000 years ago, we have the opportunity to offer care and love to babies who are coming into the world in our century. Because it is an endowment, the CFNWI provides a stream of income from now into eternity.
You can make a tax-free charitable donation directly from your IRA to the Catholic Foundation for Northwest Indiana. Distributions of up to $100,000 per year per taxpayer are allowed without an income tax assessment if the donor is age 70 ½ or older. Charitable distributions may exceed the amount of the Required Minimum Distribution (RMD). Stocks and bonds are fantastic ways to donate. By making a gift of appreciated securities, you may avoid paying capital gains tax that may otherwise be due if you sold these assets. Consult your financial advisor about tax-advantaged charitable gifts or call CFNWI at 219-769-9292, x. 268.
Foundation Pays Tribute to Bishop Melczek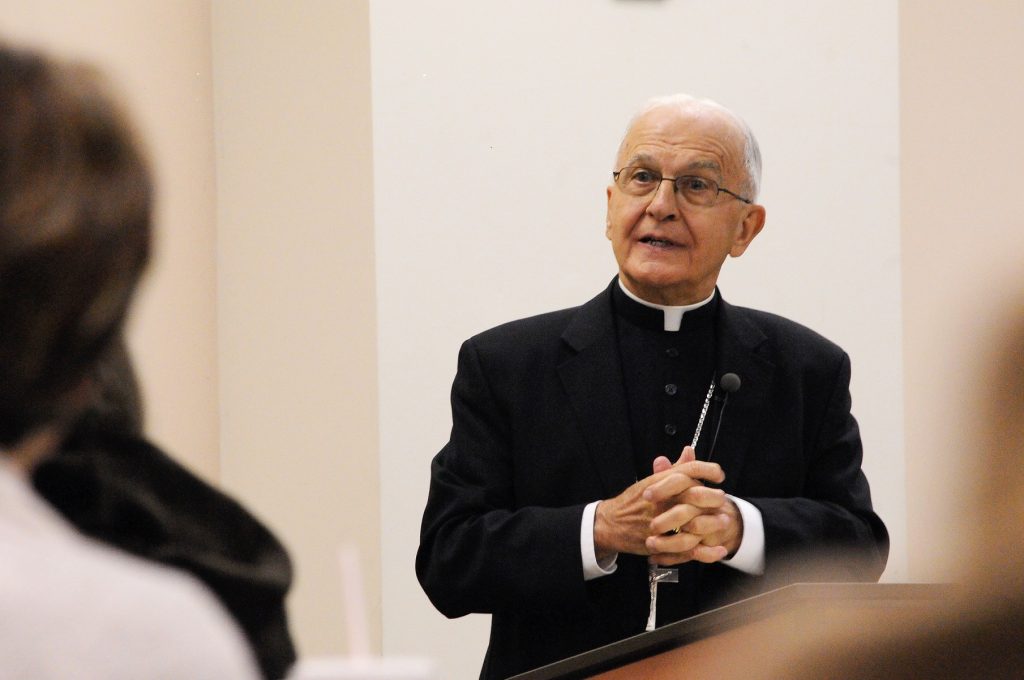 On November 3rd, 2022, the Catholic Foundation for Northwest Indiana and Bishop Robert J. McClory welcomed Bishop Alphonse Quesnel of the diocese of Fort-Liberte' in Haiti to the annual Friends of the Foundation reception. Both bishops shared their gratitude for the generosity and kindness of Foundation founder and former chairman, the late Bishop Dale J. Melczek.
During his lifetime Bishop Melczek donated over $100,000.00 to establish educational funds for three Catholic high schools (Andrean, Bishop Noll, and Marquette) and to fund education in Haiti. As part of his legacy, Bishop Melczek left $43,000.00 to the Catholic Foundation upon his death for the support of our sister diocese, Fort-Liberte' in Haiti. Bishop Alphonse announced that a school in Fort-Liberte' will be named after Bishop Melczek to keep his name alive in the Haitian diocese.
A tribute to the late Bishop Melczek was included in the 2022 Annual Report which was distributed at the reception. To request a copy of the report or make a donation, please email: jholicky@catholicfuture.org or call 219-769-9292, ext. 268.
Homily focuses on Prayer and Meditation
"I don't have God, God has me…"
The 11th annual Red Mass was held October 6th in Merrillville, Indiana. Based on a tradition initiated in Europe in 1245, the Red Mass is an opportunity to honor and invoke the Holy Spirit for wisdom. In the Gary Diocese, the Red Mass welcomes all in the legal and financial fields to recommit themselves to seek the Holy Spirit's guidance and to work for justice.
The main celebrant, the Most Reverend Robert J. McClory, shared his words of wisdom: "Remember the necessity of prayer, quiet, silence, reflection in (the) life of all professionals, where the duties…can become so all consuming, demands can be so pressing that the temptation, either intentional or otherwise, is to fill one's day with everything but not give time to God in the midst of all those pressures and demands."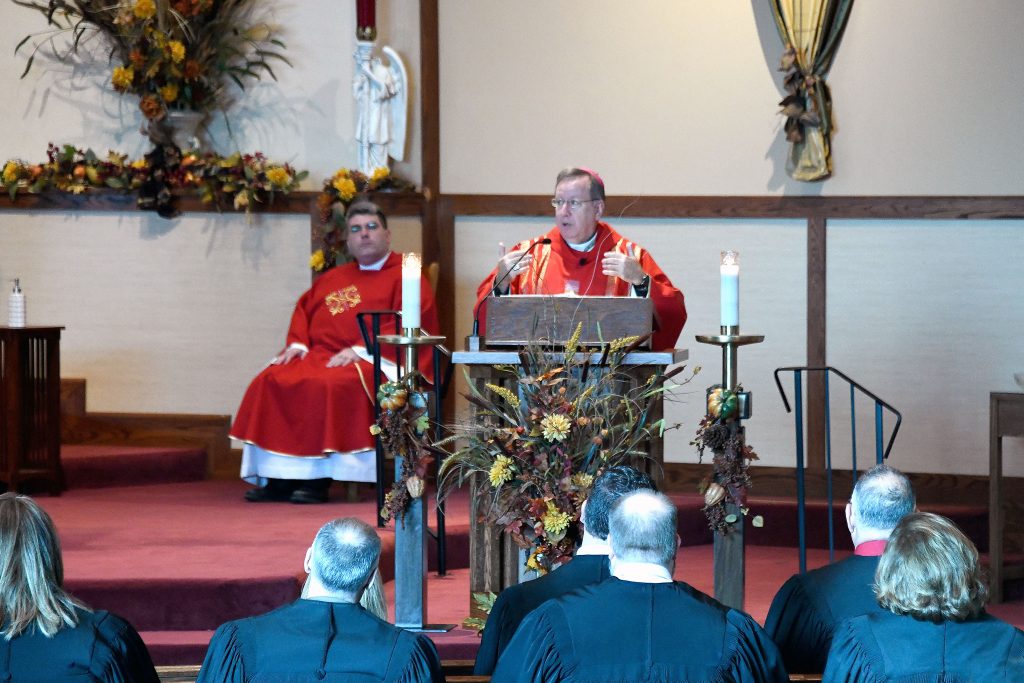 Bishop McClory encouraged a 5-step way to expand quiet time and prayer in our lives as a response to the love that God has for us. "Christ himself who is the model for us all, would take those times for prayer, sometimes in the middle of the night, sometimes 40 days in the desert to make sure that he was in communion with God the Father." Christ was nourished by his relationship with God in those moments of silence and prayer, moments of prayer and contemplation.
Bishop recommended a daily method to practice reflection, the Examen, created by St. Ignatius of Loyola. For more details and to hear the complete homily, please click here.
Guest Speakers for October 6 Continuing Education Seminar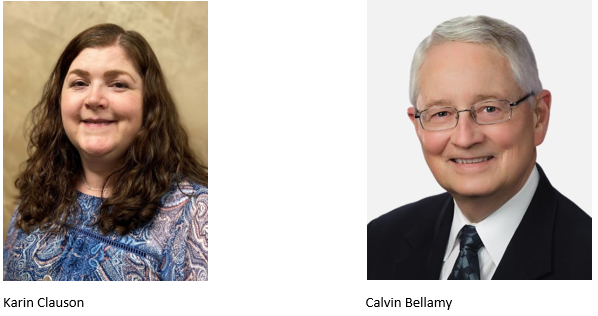 Karin Clauson, a graduate of Purdue University and the University of Cincinnati, specializes in trusts and estates as a Senior Tax Accountant at Swartz, Retson & Co. after 15+ years in the banking industry, working with Trusts and managing the Trust Tax Department for over 12 years at MB Financial Bank, N.A. She will provide "roll up your sleeves" pointers regarding tax issues encountered at death.
Calvin Bellamy graduated from University of Michigan Law School and served in the District of Columbia, Illinois, and Indiana. He spent 37 years in banking, practicing law for another 13 years as a partner with Krieg DeVault LLP. He has authored several Law Review articles and is active in community organizations. He will showcase estate planning horror stories with real life examples of celebrity estates gone wrong.
The presentation is free and can be used for 1 CLE credit for Lawyers, and 1 CPE credit for accountants. A light breakfast will be served. Scroll down for more details.
Diocese of Gary Red Mass
October 6, 2022, 8:00 am
Our Lady of Consolation Church
8303 Taft, Merrillville
The Red Mass tradition was initiated to bestow wisdom from the Holy Spirit upon Judges, Justices, and members of the legal profession at the beginning of each Court Season. This tradition goes back to the thirteenth century.
The contemporary Red Mass brings members of the bar, government officials, the judiciary, the financial community, and all those who work together for justice in our world to reflect and seek the Holy Spirit's guidance.
Bishop Robert J. McClory will preside. In the continuing education seminar following the Red Mass, guest speakers will be Attorney/ Former Banker Calvin Bellamy and Swartz Retson Senior Accountant/Former Banker Karin Clauson. Together they will address the daunting topic of "Life, Death and Taxes." This event is open to everyone in the legal and finance community and is hosted by the Catholic Foundation for Northwest Indiana.
Building a Foundation for the Future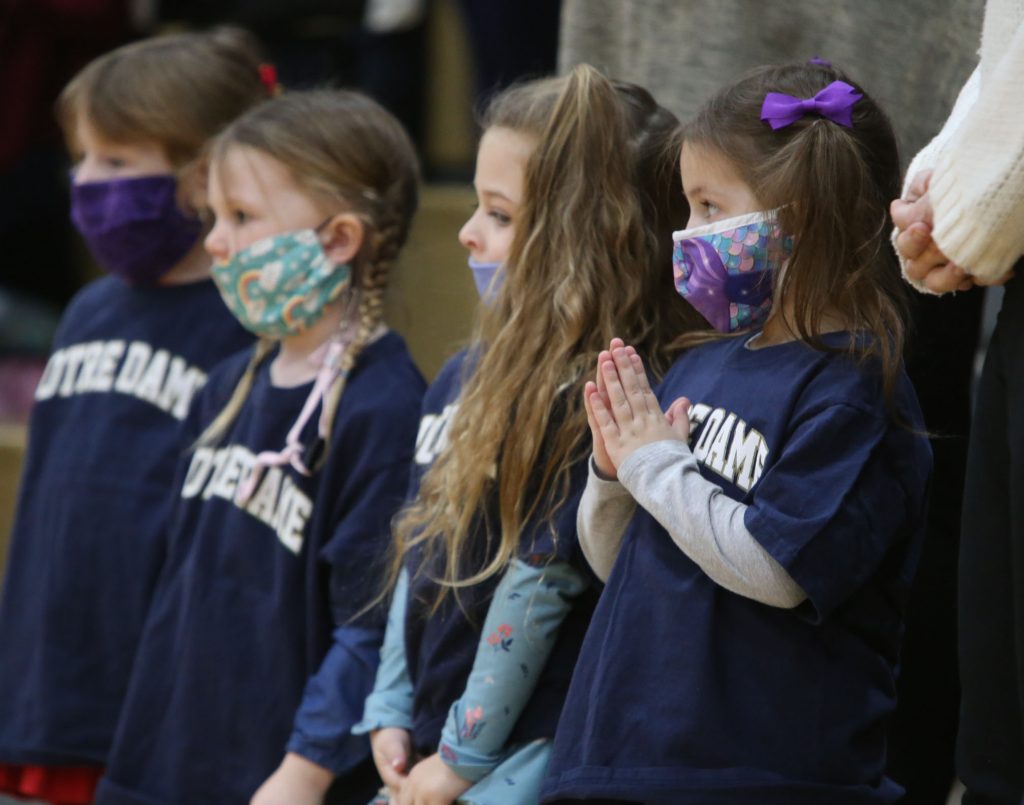 With Father's Day right around the corner, now is a good time for fathers (and mothers) to review their estate plan and consider how they would wish to be remembered and what kind of legacy they would like to leave. Do you wish to support your parish or a special Catholic organization after you head to your heavenly reward? Now is a good time to consider giving a gift that continues to give by investing or bequeathing a gift through the Catholic Foundation for Northwest Indiana.
In 2008, Bishop Melczek and several members of the Diocesan Finance Committee had the foresight to establish the Catholic Foundation as a way to gather, keep, and grow parish savings and monetary gifts while generating income and stability for parishes and other Catholic ministries. The Catholic Foundation for Northwest Indiana has grown from $3 million at its start to $14 million today. The Catholic Foundation gave over $2,720,000 in distributions in last fiscal year (7/1/2020 – 6/30/2021).
Where do the distributions come from? Each of the Foundation's endowments consist of an initial opening gift, and additional gifts that are received throughout the year. The initial fund is never spent. Distributions come from earnings, dividends, and market growth. The donations that go into a fund stay there forever and continue working.
Management fees are minimal, and distributions are available twice a year as income which can be used for whatever the parish or organization determines. Distributions can be reinvested, resulting in larger, future distributions. The fund holder (pastor, principal, or other administrator) determines how to manage the distributions: accepting all or part of the available growth, deferring, re-investing, or any combination of the three.
What does defer mean in this situation? Generally, to defer means to postpone. In this instance, to defer means that that all or part of the distribution money stays invested until the next semi-annual distribution. The deferred amount continues to earn and grow. Distributions are offered twice a year in January and July and the deferred amount can be taken during those distribution periods.
Gifts to the endowment funds are accepted year-round and start earning money right away. Contact the Development Office (219-769-9292 x 268) to see if your parish or school already has an endowment. Envelopes are available at the Pastoral Center if you wish to make a donation. Digital giving makes giving easy, and the Foundation accepts donations online at catholicfuture.org/donate/. Disbursements from the Foundation's endowment funds maintain church properties, support seminarians, assist our retired priests, Catholic Charities, and other worthy causes across the Diocese of Gary.
The Catholic Foundation for Northwest Indiana, Inc. is a Catholic organization and a 501(c)(3) non-profit, independent corporation.
Friends of the Foundation 2021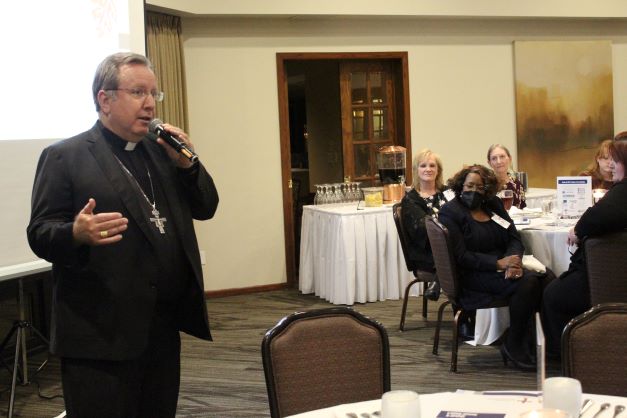 A crowd of 80+ came together on November 9, 2021 to share in fellowship and conversation at the sixth annual Friends of the Foundation reception at the Briar Ridge Country Club. The Catholic Foundation for Northwest Indiana brings donors and fund holders together to share stories of the good work being done in the Diocese of Gary. Several new endowment funds were opened in the 2020 – 2021 year, and many new faces were introduced joining with corporate sponsors and winners of the 2021 Mercy Grant Awards to celebrate another year of growth for the Foundation.
Bishop Robert J. McClory compared an endowment fund to a tree, saying the best time to plant a tree is 20 years ago, and the next best time is to plant a tree today, referring to the investments in the Foundation and how important it is to water those trees to benefit future generations.
A short video presentation outlined the history of the Foundation and introduced this year's 2021 Mercy Grant winners:
Miscarriage, Mothers & Others
Their work recognizes the life of the unborn child and the validation of the parent's, sibling's, and grandparent's grief when a miscarriage happens in the family. Their activities include educational information and outreach to families who have lost a child through miscarriage.
Saint Elizabeth Seton Prison Ministry
The ministry puts together bags with clothes and toiletries for prisoners who are reentering society. Volunteers purchase and collect clothes and shoes from various churches in the diocese and assist with rent for newly released offenders.
Saint Teresa of Avila Catholic Student Center
This Center provides missionaries to lead Catholic college students into a growing relationship with Christ. FOCUS (Fellowship of Catholic University Students) ministers help students put their relationship with Christ into action through mission and service.
Sojourner Truth House
They are a ministry of hope and help for homeless and at-risk women and their children sponsored by the Poor Handmaids of Jesus Christ. Through hospitality, advocacy, integrative services and collaboration, participants improve their quality of life and that of the community in a safe, trusting environment assisting participants to improve their quality of life and become contributing members of their communities.

Focusing on Early Growth in the Foundation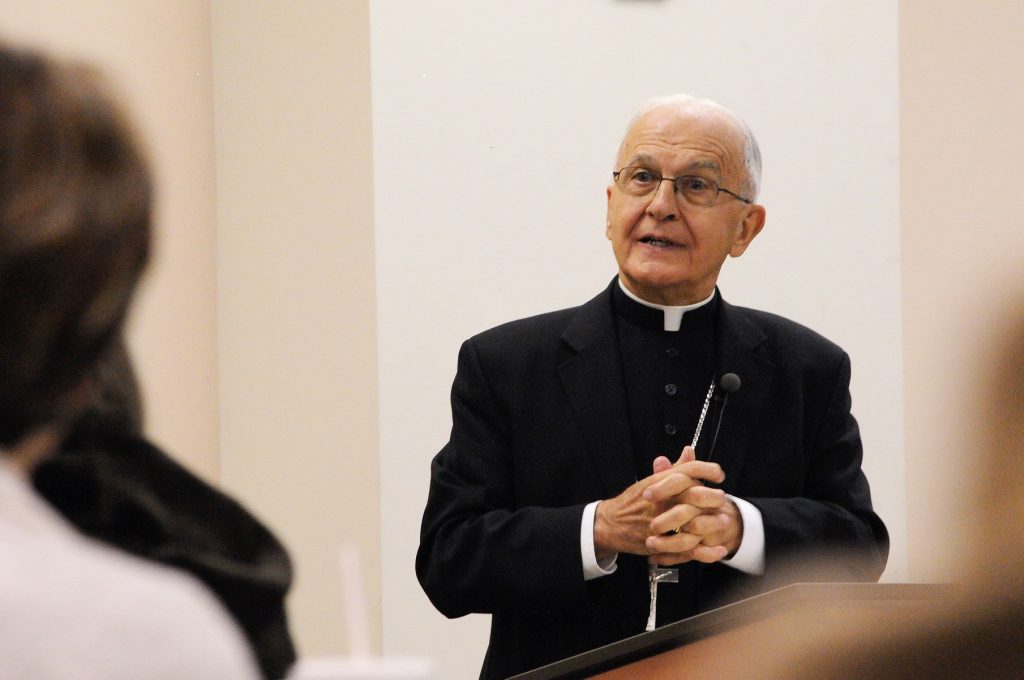 In 2008 Bishop Dale Melzcek and the Finance Council of the Diocese of Gary established the Catholic Foundation for Northwest Indiana (originally named the Catholic Foundation for the Diocese of Gary). Diocesan leadership brought their vision to reality, creating a permanent flow of income for our schools and parishes by establishing local endowment funds within a Catholic Foundation to serve the four counties of Northwest Indiana.
The early growth of the Foundation was slow. Several funds that had been established by Bishop Andrew Grutka, the first Bishop of the diocese, were transferred to the Catholic Foundation for Northwest Indiana to provide assistance and scholarships for Catholic high school students and the seminarians of the Diocese. Bishop Melczek supported the Foundation by establishing additional endowment funds in his own name.
Bishop Emeritus Dale Melczek proudly reminisces, "I am a great believer in our Catholic Schools. What we have in our Catholic schools, no one can duplicate. I wanted to preserve that." Cal Bellamy who served on the Finance Council at that time emphasized that the Council promoted the Foundation "to provide sustainability and serve the mission of the Church through investment in our Catholic parishes."
Endowment funds now exist for Nativity School (Portage), Aquinas School (Merrillville), St. Joseph School (Dyer), St. Patrick School (Chesterton), St. Casimir School (Hammond), St. Paul School (Valparaiso), St. Stanislaus Kostka (Michigan City), St. Thomas More (Munster), in addition to scholarships for three Catholic High Schools, and multiple parishes and college scholarships.
If your Catholic school is listed, you may contact the Foundation to make a donation to an existing account, or if you wish to create a new fund, contact Judy Holicky, Stewardship Coordinator for the Foundation, at 219-769-9292, ext. 268 or email to info@catholicfuture.org.
Make a Lasting Difference

Foundation Achieves $13 Million in 13 Years
This year, 2021, marks the 13 year anniversary of the Foundation. In the last year, the Catholic Foundation for Northwest Indiana added six new accounts, bringing the total assets managed to over $13,000,000. The Foundation adds the following organizations to its growing list of funds and beneficiaries: St. Casimir Parish in Hammond, Sacred Heart Parish in Whiting, St. Patrick Church in Chesterton, St. Paul Parish in Valparaiso, Staley Scholarship for Andrean High School, and James & Barbara Thorstad Scholarship for St. Patrick's School.
Anyone can donate to our existing endowment funds and support your local parish, school or ministry. If your parish does not have an endowment account, it is easy to establish a new account. If you have 10 people who can contribute $500 each, or 5 donors at $1,000 (for a total of $5,000), you can establish an endowment that will fund your favorite ministry and generates income in perpetuity. Through your financial discipleship, you help the Church in Northwest Indiana. You can watch how your gift benefits the parish or agency while you are alive and the income from the endowment will continue to give after you are gone. Contact Judy Holicky (jholicky@catholicfuture.org or 219-769-9292. ext. 268).
Mercy Fund applications open through 8/1/2022
Through generous donations from across our diocese, the Mercy Fund is entering its fifth year of granting awards for projects in our diocese that embody spiritual and corporal works of mercy. In 2020, the Mercy Fund awarded $6,000 in grants for projects throughout the Diocese of Gary.
Do you know a Catholic organization or group – engaged in programs, initiatives, or projects dedicated to a work of mercy in our diocese – that could benefit from a grant of up to $5,000?
Applications were closed at noon on August 1, 2022. Additional details and eligibility requirements are available at www.catholicfuture.org/grant-seekers. Please contact Judy Holicky at 219-769-9292 ext. 268 or info@catholicfuture.org with any questions.
2020 Mercy Fund Grants Feed the Hungry in NW Indiana
For I was hungry, and you gave Me something to eat; I was thirsty, and you gave Me something to drink … The King will answer and say to them, 'Truly I say to you, to the extent that you did it to one of these brothers of Mine, even the least of them, you did it to Me.' (Matthew 25: 35,40)
In response to the current need brought about by the COVID-19 pandemic, all 2020 Mercy Fund grant monies were awarded to support the immediate needs of the hungry within our Diocese of Gary.
The economic conditions created immense needs to feed the hungry, as the numbers of hungry multiply and our local food pantries and meal services report huge increases in demand for services.
For the 2020 grant cycle, the committee reviewed prior grant applicants and identified which programs are established to feed the hungry. Following confirmation that the respective organizations were still engaging in programs to feed the hungry, each was awarded a pro rata share of the 2020 Grant funds.
2020 Mercy Fund Grant Recipients:
Good Samaritans, St. Michael Church – Schererville
St. Joseph Food Kitchen – Hammond
Society of St. Vincent de Paul – Special Works Fund
St. Stanislaus Community Food Pantry – East Chicago
Sacred Heart Food Pantry – LaPorte
Pick 7 Food Distribution, St. Matthias Church – Crown Point
St. Mary of the Lake Food Pantry – Gary
Boxes of Mercy/Food for the Hungry, Queen of All Saints – Michigan City
We are living in an unprecedented time. Together, with Christ by our side, we will not only survive but we will thrive.
Mercy is strong. Mercy rises to all challenges. Mercy shall prevail.
For more information contact the Foundation at iholickv@catholicfuture.org.
"For it is in giving that we receive."
– St. Francis of Assisi
As a faithful disciple of Christ, you are generous with your time, talents, and treasure. The Catholic Foundation of Northwest Indiana is here to help you create a philanthropic legacy that will reflect your faith and benefit your favorite Catholic church or ministry forever.
Contact Judy Holicky to learn how to start a fund:
219-769-9292 x 268
info@catholicfuture.org
---
News
---
Facebook News
This message is only visible to admins.
Problem displaying Facebook posts.
Click to show error
Error: Server configuration issue