Looking Back and Looking Forward!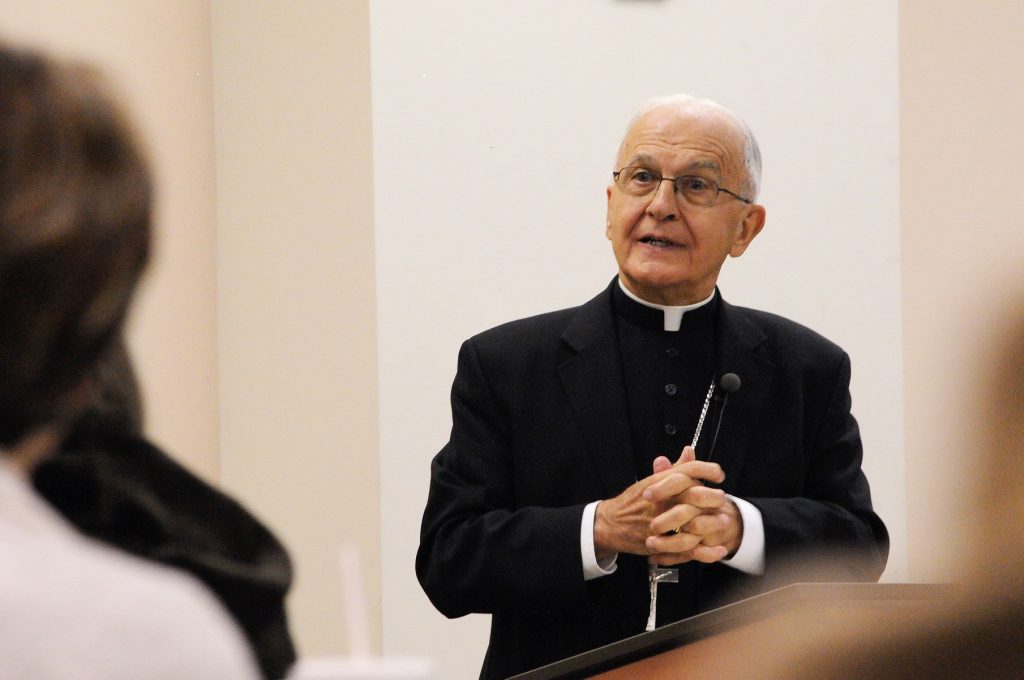 Focusing on Early Growth in the Foundation
In 2008 Bishop Dale Melzcek and the Finance Council of the Diocese of Gary established the Catholic Foundation for Northwest Indiana (originally named the Catholic Foundation for the Diocese of Gary).  Diocesan leadership brought their vision to reality, creating a permanent flow of income for our schools and parishes by establishing local endowment funds within a Catholic Foundation to serve the four counties of Northwest Indiana.   
The early growth of the Foundation was slow.  Several funds that had been established by Bishop Andrew Grutka, the first Bishop of the diocese, were transferred to the Catholic Foundation for Northwest Indiana to provide assistance and scholarships for Catholic high school students and the seminarians of the Diocese. Bishop Melczek supported the Foundation by establishing additional endowment funds in his own name.
Bishop Emeritus Dale Melczek proudly reminisces, "I am a great believer in our Catholic Schools. What we have in our Catholic schools, no one can duplicate. I wanted to preserve that." Cal Bellamy who served on the Finance Council at that time emphasized that the Council promoted the Foundation "to provide sustainability and serve the mission of the Church through investment in our Catholic parishes."
Endowment funds now exist for Nativity School (Portage), Aquinas School (Merrillville), St. Joseph School (Dyer), St. Patrick School (Chesterton), St. Casimir School (Hammond), St. Paul School (Valparaiso), St. Stanislaus Kostka (Michigan City), St. Thomas More (Munster), in addition to scholarships for three Catholic High Schools, and multiple parishes and college scholarships.
If your Catholic school is listed, you may contact the Foundation to make a donation to an existing account, or if you wish to create a new fund, contact Judy Holicky, Stewardship Coordinator for the Foundation, at 219-769-9292, ext. 268 or email to info@catholicfuture.org.
Make a Lasting Difference

Foundation Achieves $13 Million in 13 Years
This year, 2021, marks the 13 year anniversary of the Foundation. In the last year, the Catholic Foundation for Northwest Indiana added six new accounts, bringing the total assets managed to over $13,000,000. The Foundation adds the following organizations to its growing list of funds and beneficiaries: St. Casimir Parish in Hammond, Sacred Heart Parish in Whiting, St. Patrick Church in Chesterton, St. Paul Parish in Valparaiso, Staley Scholarship for Andrean High School, and James & Barbara Thorstad Scholarship for St. Patrick's School.
Anyone can donate to our existing endowment funds and support your local parish, school or ministry. If your parish does not have an endowment account, it is easy to establish a new account. If you have 10 people who can contribute $500 each, or 5 donors at $1,000 (for a total of $5,000), you can establish an endowment that will fund your favorite ministry and generates income in perpetuity. Through your financial discipleship, you help the Church in Northwest Indiana. You can watch how your gift benefits the parish or agency while you are alive and the income from the endowment will continue to give after you are gone. Contact Judy Holicky (jholicky@catholicfuture.org or 219-769-9292. ext. 268).
2021 Mercy Fund applications open 4/15/2021
Through generous donations from across our diocese, the Mercy Fund is entering its fourth year of granting awards for projects in our diocese that embody spiritual and corporal works of mercy. Last year the Mercy Fund awarded $6,000 in grants for projects throughout the Diocese of Gary.
Do you know a Catholic organization or group – engaged in programs, initiatives, or projects dedicated to a work of mercy in our diocese – that could benefit from a grant of up to $5,000?
Applications will be accepted from April 15, 2021 until noon on August 1, 2021. Additional details and eligibility requirements are available at www.catholicfuture.org/grant-seekers. Please contact Judy Holicky at 219-769-9292 ext. 268 or info@catholicfuture.org with any questions.
Apply for a Mercy Fund Grant Today!
2020 Mercy Fund Grants Feed the Hungry in NW Indiana
For I was hungry, and you gave Me something to eat; I was thirsty, and you gave Me something to drink … The King will answer and say to them, 'Truly I say to you, to the extent that you did it to one of these brothers of Mine, even the least of them, you did it to Me.' (Matthew 25: 35,40)
In response to the current need brought about by the COVID-19 pandemic, all 2020 Mercy Fund grant monies were awarded to support the immediate needs of the hungry within our Diocese of Gary.
The economic conditions created immense needs to feed the hungry, as the numbers of hungry multiply and our local food pantries and meal services report huge increases in demand for services.
For the 2020 grant cycle, the committee reviewed prior grant applicants and identified which programs are established to feed the hungry. Following confirmation that the respective organizations were still engaging in programs to feed the hungry, each was awarded a pro rata share of the 2020 Grant funds.
2020 Mercy Fund Grant Recipients:
Good Samaritans, St. Michael Church – Schererville
St. Joseph Food Kitchen – Hammond
Society of St. Vincent de Paul – Special Works Fund
St. Stanislaus Community Food Pantry – East Chicago
Sacred Heart Food Pantry – LaPorte
Pick 7 Food Distribution, St. Matthias Church – Crown Point
St. Mary of the Lake Food Pantry – Gary
Boxes of Mercy/Food for the Hungry, Queen of All Saints – Michigan City
We are living in an unprecedented time. Together, with Christ by our side, we will not only survive but we will thrive.
Mercy is strong. Mercy rises to all challenges. Mercy shall prevail.
For more information contact the Foundation at iholickv@catholicfuture.org.
"For it is in giving that we receive."
– St. Francis of Assisi
As a faithful disciple of Christ, you are generous with your time, talents, and treasure. The Catholic Foundation of Northwest Indiana is here to help you create a philanthropic legacy that will reflect your faith and benefit your favorite Catholic church or ministry forever.
Contact Judy Holicky to learn how to start a fund:
219-769-9292 x 268
info@catholicfuture.org
---
News
---
Facebook News
This message is only visible to admins.

PPCA Error:
Due to Facebook API changes on September 4, 2020, it will no longer be possible to display a feed from a Facebook Page you are not an admin of. The Facebook feed below is not using a valid Access Token for this Facebook page and so will stop updating after this date.